A less aggressive trail runner (dirt roads, gravel, light technical terrain).
-Ability to cinch laces tight so you can achieve a more perfect fit.
-Mid-sole injected with EVA foam paired with Ortholite mountain footbed for shock absorption.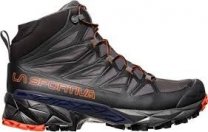 Blade GTX:

-Gore-Tex!!!! These boots are waterproof and breathable!

-Comes with 5mm Ortholite insole.
-FriXion AT 2.0 gives you uphill traction while the Impact Break System ensures your grip downhill.
-Fits snug like an athletic shoe but performs like and hiking boot.
-Could be used for mountain running but much heavier than our other options.
-With heavy socks a good option for light, winter activities. More of a three season boot.


Kid's Folkon:

-Comfortable and supportive so kid's can wear them for long periods of time.
-FriXion AT 2.0 and Impact Break System-they perform like the Blade GTX boot.
-Ankle height for protection from trail debris.
-Laces with a pull tab for easy on and off.
TX-3 Approach Shoes:
-The perfect shoe for any climbing approach, or around town wear.

-Mesh upper allows for breathability and comfort in rugged terrain.
-A "climbing zone" on the toe using Vibram Mega-Grip rubber and a "Trail Bite" heel platform- Maximum grip!!!!
-Wide fore-foot fit for all day comfort.
Check out our next blog post on Climbing shoes and some of the Staff's favorite crag picks!!!