Spring Staff Picks
Our rental skis are getting waxed for summer storage and displays of hats and gloves are slowly being consolidated and put away. The staff at Laramie's Basecamp is very excited to welcome in the Spring season and help you gear up for all your adventures these next couple of months. Many exciting shipments have arrived these past few weeks including, Osprey backpacks, Kelty camp accessories, and Adventure Medical Kits. Let's take a look at what our friendly staff members are most stoked on this season.
Morgan: In June, Morgan is planning a backpacking trip somewhere in the Rocky Mountain region and she needs equipment
that is lightweight and easy to pack. Our new Peregrine brand of sleeping bags, tents, sleeping pads, and stuff sacks are a perfe­­ct fit for Morgan's adventures. The sleeping bag packs down to 2 pounds and the
Primaloft down blend is rated down to 20 degrees. The two-person tents by Peregrine range in price from $150-$300 making their products some of the more affordable options on the market. Come in and check out our display tent and crawl into their sleeping bag to test it out!
Jill: The camping season is fast approaching, and Jill is planning numerous trips for her and her family. While camping with more than a few people, especially kids, will require a double burner Coleman stove or getting creative over a camp fire, Jill's
new favorite toy in the shop is our Olicamp Kinetic Ti + XTS Pot Combo. Made from ultralightweight titanium, this stove screws onto any Butane/Propane fuel cannister. The XTS pot boils water fast, saving time and fuel, and can fit the stove and fuel cannister inside to save space in your backpack. We also carry Olicamp wind shields, pot handles, and space saver mugs (with or without lids) that fit neatly around a 1 QT Nalgene. Jill is all about practical tools in the outdoors that make adventures easy, fun, and streamlined…and she's a culinary wiz!
Logan: Upon receiving our Osprey backpack order, Logan began researching the variety of models we brought in so he could better serve the customer and educate himself on all the fun features. He has decided on two packs as his favorites. The Volt
and Viva models, which come in a 75 and 60 liter pack for men and 65 and 50 liter pack for women, are the most practical and economical packs offered in larger sizes. The adjustable hip belts can be "fit-on-the-fly" to offer a more secure fit and the breathable AirScape back panel fits close to the back. This pack come with a rain cover included, removeable sleeping pad straps, and trekking pole loops. Logan's also loves the 18-liter Hikelight day pack, the only bag under 20 liters with an integrated rain cover. Stop by the shop to get fitted for your new pack today!
Marly: Our new footwear products make Marly happy and she can't wait to help size shoppers and get them into new trail
runners and hiking boots this season. She sports the La Sportiva TX3's herself, the perfect approach shoe, which is built using sticky, grippy rubber like all of their famous rock-climbing shoes. However, a customer favorite is definitely the La Sportiva Blade GTX hiking boot, a lightweight, GoreTex boot with a firm sole that grips well uphill and brakes easily on the downhills. Marly is contemplating getting herself some Topo running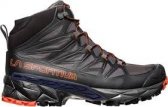 shoes because they may just be the most comfortable running shoe she's ever tried. With a roomy toe box but a snug heel and mid-sole fit, this shoe is guaranteed to fit almost every foot shape and size. For every shoe purchased you receive a coupon for $10 off your next sock purchase in store…what are you waiting for!?




Rebecca: On April 20th we had our First Aid Kit refill night, offering advice on how to build and restock first aid kits. As a mother of two, a veteran, and a wilderness first responder, Rebecca knows the importance of always packing first aid supplies
and making sure they are up to date and working. We recently stocked our shelves with complete first aid kits for 1 to 4 people and refills on bandages, medicine, and wound care supplies. Safety equipment and procedures allow us to push our boundaries and help others in the outdoors. At Laramie's Basecamp we encourage customers to ask questions as they plan trips to ensure successful, happy memories. Visit us before you head into the mountains this summer for a free trip planner checklist and first aid supplies!
Tyler: During this Spring shoulder season when snow is still plentiful in the Snowy Range mountains but Vedauwoo is warming up, Tyler can't decide what activity he'd rather be doing. Both snowboarding and rock climbing can necessitate a shell layer to block the wind and keep the elements at bay. At the shop we carry great wind and rain shells from Black Diamond, Outdoor Research, White Sierra, and Mountain Hardware. The shells range from a heavier, more insulating layer, to lightweight jackets that pack down into their own pocket. Lately, the warm days have enticed Tyler to head to Vedauwoo and climb rocks, but those Spring winds can be quite brisk at 40 or 50 feet, so chances are if you see him, he's wearing his favorite shell. Check out a few of our shell options on our online shop here.